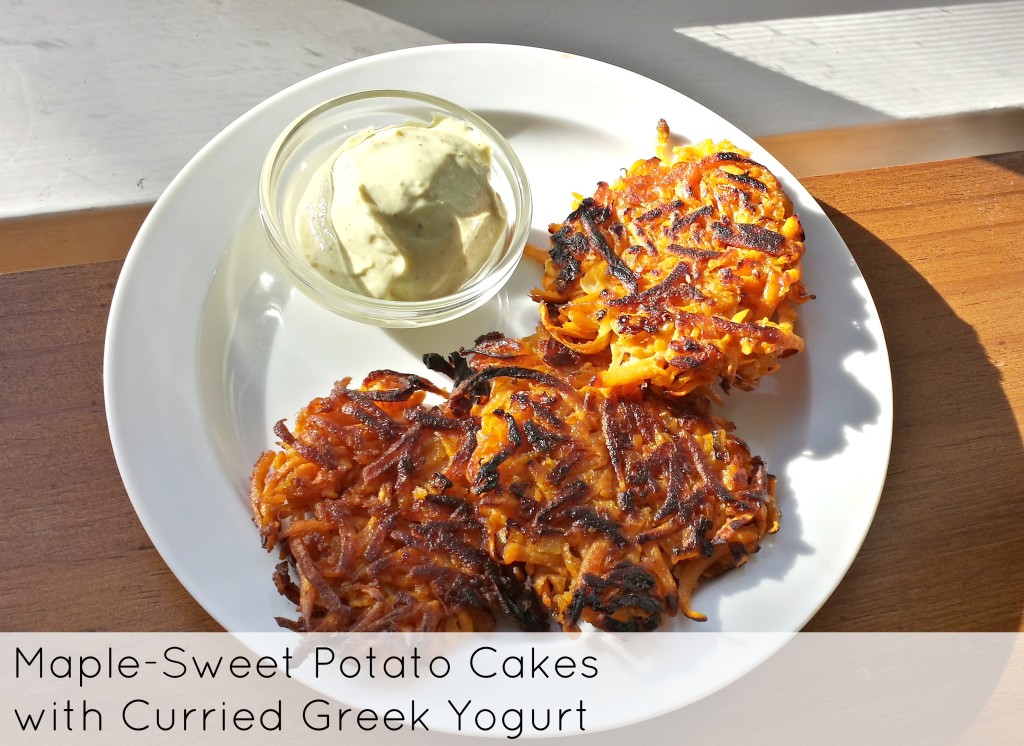 A few weeks ago I volunteered to test some recipes from the Food52 site that were part of the Your Most Impressive Dinner Party Side Dish contest, including these sweet potato cakes by FoxesLoveLemons. I thought they might make a nice Thanksgiving side dish, or a possible alternative latke for Hanukkah. I think they work for either of those holidays, or both if you're doing Thanksgivukkah this year.
While this recipe didn't win the overall title as most impressive, it was chosen on Food52 as a community favorite, and my headnote (which is a shorter version of this blog post) is published with it. All three people eating Sunday dinner called them a win, and asked me to make them again. I think my sister might have sneaked out with the leftovers.
When I made this recipe as written I had trouble with the cakes scorching and not cooking all the way through. My solution was to make more cakes so that they were thinner and would cook through without burning.
The curried Greek yogurt is an excellent sauce, one that I can see repurposing for many different dishes. The balance of spice with the creamy tang of the yogurt hits all the right notes. I think it would make an excellent base for a curried carrot salad.
My tips for making this recipe are:
a bit more salt added to the sweet potato mixture before cooking

divide the recipe into 12 cakes
add a bit of cooking oil to the pan–cooking spray isn't sufficient to achieve even browning
Maple Sweet Potato Cakes with Curried Greek Yogurt
Makes 12 cakes

Curried Greek Yogurt
7 ounces 2% Greek yogurt
1/2 teaspoon curry powder
1/4 teaspoon salt
1/4 teaspoon ground black pepper
Maple Sweet Potato Cakes
1 large sweet potato, peeled and shredded
1/2 teaspoon kosher salt
1 egg
1 1/2 tablespoon maple syrup
1/2 teaspoon ground white pepper
1/2 teaspoon paprika
1 pinch of salt
1 pinch of cinnamon
1/3 cup minced yellow onion
1/3 cup panko breadcrumbs
Nonstick cooking spray
Cooking oil to coat the skillet
In a small bowl, stir together all ingredients for Curried Greek Yogurt. Set aside.
Place shredded sweet potato in a large bowl and toss with salt. Let stand 5 minutes.
In a second large bowl, whisk together egg, maple syrup, white pepper, paprika, salt and cinnamon. Using your hands, squeeze all excess liquid out of sweet potato; discard liquid. Add sweet potato, onion and breadcrumbs to egg mixture; toss to combine well.
Form sweet potato mixture into 12 cakes. Heat a griddle or large nonstick pan over medium high-heat. Spray griddle with nonstick spray or coat with a thin sheen of cooking oil; place potato cakes on griddle. Cook 8 to 10 minutes or until golden brown and crispy on the outside, flattening with spatula as they cook and flipping occasionally. Serve immediately with Curried Greek Yogurt.