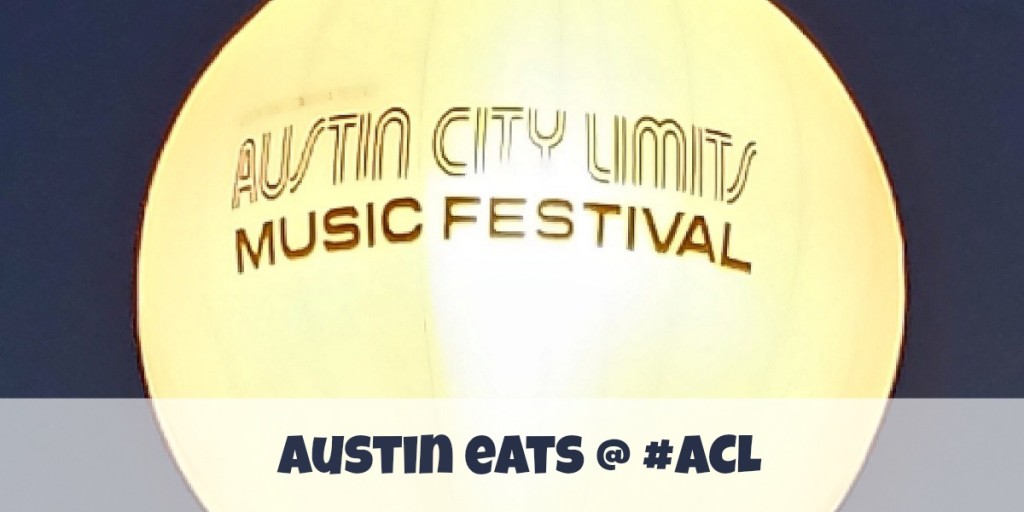 Hey, sorry for falling behind for a couple of days! We had some houseguests and related excitement, and since I'm trying to blog for #31days by the seat of my pants, I got a bit behind. The comeback starts now.
On Saturday we went the Austin City Limits music festival and overall we had a great day. One of the fun things about ACL is always the food. There's an Austin Eats food court where all the vendors are locals–some are brick-and-mortar sites and some are food trucks. This year is the first time I've had to be super-careful about which foods to eat, and fortunately the festival organizers did a great job of noting which menu items were gluten-free. I'm not sure how the GF designation was made, but it turned out that there were other dishes not marked GF that were just fine and super delicious. My only complaint, and I know it's a festival, is that the prices were so high relative to either the quality or the portion size. The best thing I put in my mouth all day was a sample of the Salt Potatoes from The Best Wurst. We only got one and devoured it, but when I tried to get some for dinner the line was so long I just didn't have the patience. Which was the wurst decision I made all day. The small Yukon Gold potatoes are boiled in a salt brine and then slathered with butter and a sprinkling of green onions. It's a veritable mouth party.
Austin Eats Highlights:
Daily Juice
Daily Juice had three different beverages on offer, including my favorite: watermelon. I love watermelon juice more than just about any other beverage and it took restraint to get only two servings throughout the day.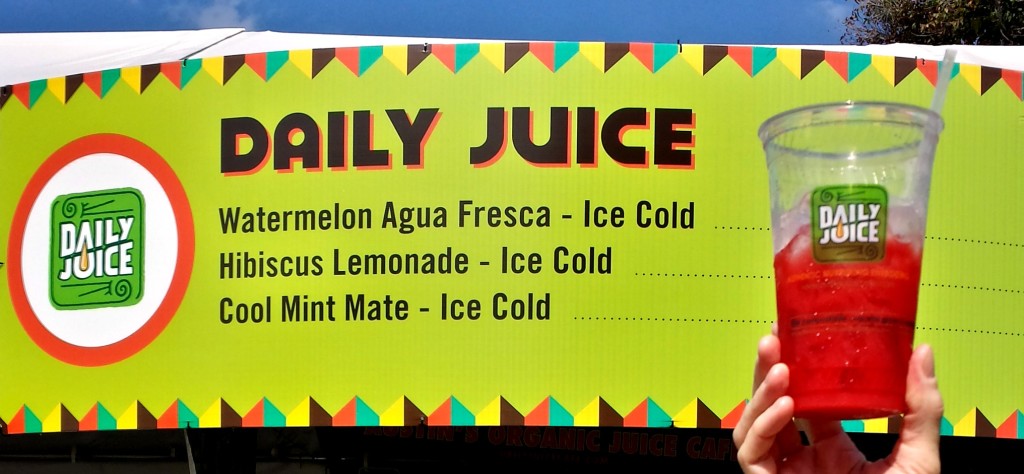 The Peached Tortilla
The PT has several food trucks and they do a lot of catering, too. Their food is a bit of fusion with an Asian twist. Chinese, Japanese, and Thai flavors inform many of the dishes. Their GF offering at ACL was a Thai Summer Salad. I'm not sure exactly what I was expecting in terms of flavors, but for $7 I was expecting a larger portion. The salad base was shredded cabbage and other vegetables topped with what seemed to be a peanut sauce dressing, with a sprinkle of sesame seeds and maybe a few bits of peanut. I'm not a huge fan of peanut anything, so I probably should have asked when I ordered. Overall it was pretty tasty, but the size : price ratio was disappointing.
Hat Creek Burger Co.
Hat Creek is a local chain with a location just down the street from me. I've never eaten there because they serve burgers and I don't really eat beef. So I was pleased to see that they had non-beef gluten-free options on the ACL menu. I had the Chicken Flashers (which sound kind of dirty–is it just me?) and the sweet potato fries. Great portion size, and though the fries were pretty standard, the chicken nuggets were quite good. I almost got over the fact that I couldn't have a Mighty Cone.
Coolhaus
The ice cream sandwiches from Coolhaus melted too quickly to get a photo, but the gluten-free coconut-almond cookie was a perfect base for the salted chocolate ice cream. The cookie was similar to a macaroon (a real one, not those weird Manischewitz rocks) and I'm insanely grateful that Coolhaus had such a fantastic gluten-free option.
My dinner choice was incredibly disappointing, so much so I'm not even going to share it here. I wouldn't patronize the vendor again, either at a festival or in the real world. But I did very happily snarf down another watermelon juice.
In case you were wondering how the omnivore husband did at ACL, he happily inhaled a bratwurst with all the fixings from The Best Wurst and some of my Hat Creek fries followed by a chocolate chip/salted chocolate Coolhaus ice cream sandwich. And for dinner he had a Chopped Beef Sandwich from The Salt Lick.
I know I should be writing about the music. We liked Haim, enjoyed Lissie and The Joy Formidable, had a nice hangout while jamming to Wilco, enjoyed our dinner to the sounds of The Mavericks, and relived our high school romantic angst to The Cure.
Sadly, our tickets were for the rained out weekend, which is having a terrible impact on the food vendors. There may be some pop-up events, but a full day's prep for 75,000 expected attendees is potentially going to waste. If you're in Austin and any of these food mentions tickle your fancy, consider visiting these vendors at their trucks or restaurants as they try to make up the losses from this weekend.