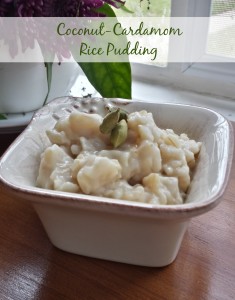 It's been a busy few weeks with huge deadlines in November and, of course, Thanksgiving. Admittedly I didn't do a great job of blogging a favorite food holiday, and maybe next year I'll be more organized about it. I do plan to tell you about the best pecan I've ever made, and maybe ever eaten.
Over the last three weeks or so we've had two brutal cold snaps each lasting about five days, with a stretch of super spring-like weather in between. The cold has put me in the mood for everything comfort food: turkey pot pie made with leftover holiday bird, mini turkey chile meatloaves (which go well with roasted sweet potatoes or squash), green chile mac and cheese, roasted root vegetables, and more. I was trying to work out what to make for a warming dessert now that the rich and heavy holiday pies are gone, and I thought about a rice pudding I used to make.
I couldn't find my old recipe so I did a little searching online to look for some ratios and came up with a fragrant and creamy dish that combines coconut milk and cardamom with leftover rice. The dish is easy, but takes a little attention at the stove while it simmers. Avoid bringing the pudding to a full-on boil, especially once the egg is added. If you don't have (or don't like) cardamom, you can leave it out or substitute a piece of cinnamon stick. This is delicious warm or cold, and it makes a nice, albeit sweet, breakfast, too.
Coconut-Cardamom Rice Pudding
2 cups cooked rice, chilled (I've used brown basmati and brown jasmine most often)
1 can of unsweetened coconut milk (light or regular)
4 green cardamom pods, lightly cracked
1 egg
3 tablespoons brown sugar
1 teaspoon vanilla extract
Combine cooked rice in a saucepan with coconut milk and cardamom and bring to a simmer. Whisk egg and brown sugar in a small bowl. Add 1/2 cup of the warm coconut milk mixture to the egg to tempter it slightly. Pour the egg and coconut milk mixture back into the saucepan, whisking to combine. Simmer over low heat for 20 minutes, stirring regularly until thickened. Remove from heat and stir in vanilla extract. Serve warm or chilled.