Last weekend I was lucky enough to win free admission to the Austin Food Blogger Alliance's Photocamp thanks to Mad Betty, who ran a drawing on her site. I learned a few new skills that I've been trying to put into practice over the last several days, skills I now call fauxtoshopping. I think that term usually means spotting or making obvious fakes. In my case it means using easy-to-understand apps to edit photos and create collages for this here blog.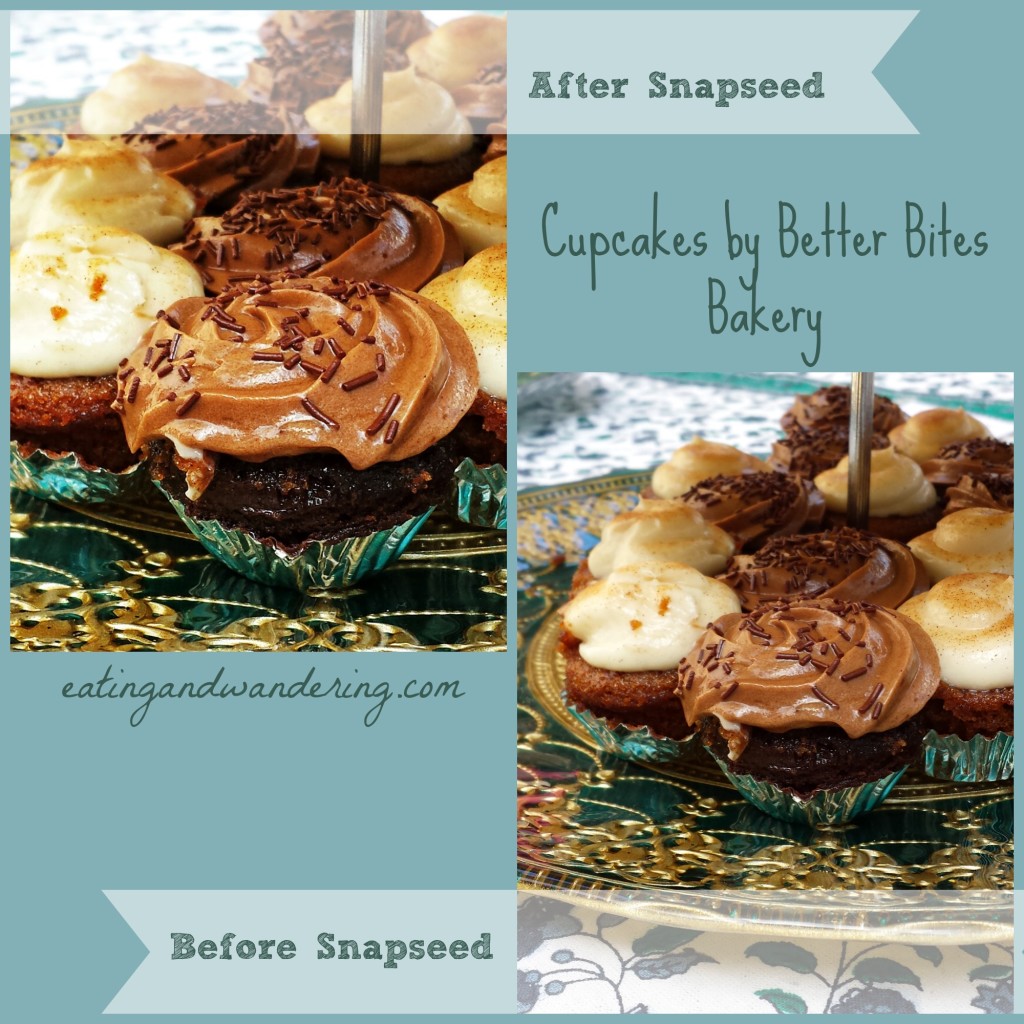 What, pray tell, does this have to do with anything gluten-free? The workshop organizers were pretty thoughtful when it came to the special diets crowd, and during the morning break we were treated to tea from Zhi and these amazing vegan and gluten-free cupcakes from Better Bites Bakery. I had a good chat with them about their flour blends and look forward to getting more information to help me hack my favorite recipes over the next month.
I have to say that Melissa Skorpil's sessions were amazing. She is a fabulous teacher and I learned so much from her about how to set up a photo shoot. My kitchen is somewhat dark and my over-cabinet lighting is fluorescent, so all my photos turn out green. Now I know how to fix that!
Jane Ko's session focused largely on iPhone-ography, but as an Android user I still found some good tools and apps. My photos above of Better Bites' delicious chocolate-mocha cupcakes started with my phone's regular cam set for HDR. This "one weird tip" for phone photography is a great one. The photo starts out in richer tones than a regular pic on Auto or similar. I then used the Snapseed app (on iPhone and Android) to crop and edit just about everything from color correction to contrast to brightness.
So after fauxtoshopping it's time to collage. I have never used Photoshop, and try as I did to follow along in Mary Helen's session, I found myself gravitating back to my old favorite, Picmonkey. Smartly, she showed the analogues in Lightroom and Picmonkey for just about every feature she showed in Photoshop. I had NO idea how much Picmonkey could do, and I've since sprung for the full version, which costs about $36 a year.
So back to those gluten-free cupcakes. They were divine. They weren't divine for gluten-free. They were just straight up damn good chocolate cupcakes. I am pretty picky about frosting, so I had to try the grasshopper ones, too, and they were even better. This is what gets me excited about this new foodstyle–finding truly delicious foods that fill a niche in my new diet.
Because everyone needs cupcakes.