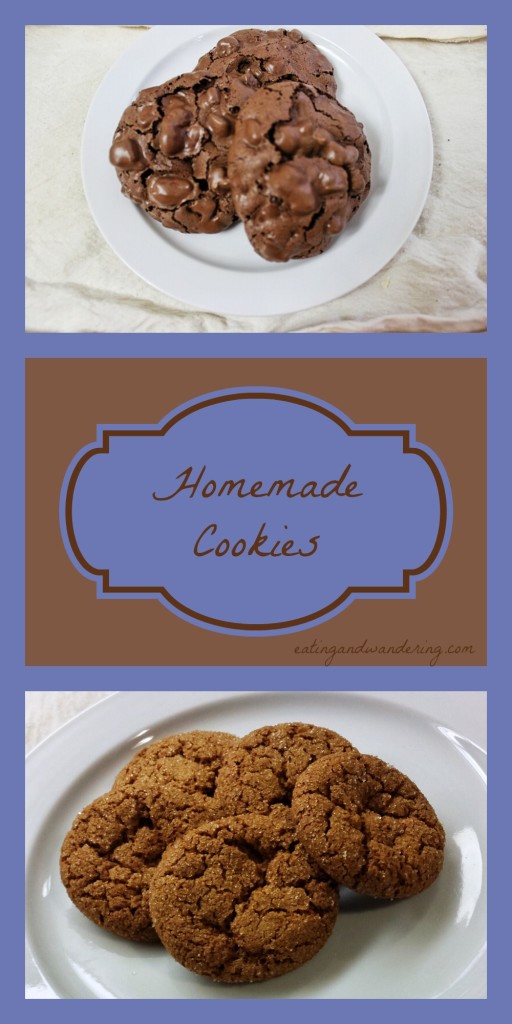 Today's cookie recipe was given to me by a baker friend who took pity on my total lack of gingersnaps while we were living in Uzbekistan (pictured bottom right). Most of the key ingredients for gingersnaps are easily available there, with the exception of molasses, and fortunately we squirreled a couple bottles away when we headed overseas so we could make a few of our favorites.
I love ginger cookies of all sorts. Commercially, Trader Joe's Triple Ginger Snaps and the old-school Mi-Dels are my faves. Of my own recipes, my favorites are the triple-ginger biscotti I developed about ten years ago. There's another one I like from an old cookbook, but they tend to bake up chewy rather than crispy. To date, though, I haven't tried a GF version of either of those recipes.
This recipe from Cook's Illustrated makes small, crisp snaps not unlike the Mi-Dels and the TJ's cookies. I've since made a gluten-free version of these cookies using Bob's Red Mill Gluten Free All Purpose Baking Flour. When I made the dough and tasted it, as I usually do with any cookie dough, I was shocked by the bitter flavor. It turns out that the Bob's blend has a fair amount of garbanzo and sorghum flour in the blend, which have a very strong taste in raw batter, and I was scared that I'd just made something pretty gross. However, once the cookies baked all trace of bitterness disappeared and I ended up with beautiful and spicy crispy gingersnaps.
The list of ingredients is impressive and the baking rotation always confounds me. But they are worth the effort to get the depth and spiciness that makes them such a favorite. Also, about a dozen-and-a-half of these beauties crushed into roasted banana ice cream is amazing.
Cook's Illustrated Gingersnaps
For the best results use freshly opened packages of dried spices.
2 ½ cups (12 ½ ounces) all-purpose flour
2 teaspoons baking soda
½  teaspoon salt
1 ¼ cups packed (8 ¾ ounces) dark brown sugar
¼ cup molasses
2 tablespoons finely grated fresh ginger
12 tablespoons unsalted butter
2 tablespoons ground ginger
1 teaspoon ground cinnamon
1/4 teaspoon ground cloves
1/4 teaspoon pepper
Pinch cayenne
1 large egg, plus 1 large yolk
½ cup granulated sugar
Whisk flour, baking soda, and salt together in bowl. Place brown sugar, molasses, and fresh ginger in second bowl. Heat butter in 10-inch skillet over medium heat until melted. Lower heat to medium-low and continue to cook, swirling pan frequently, until foaming subsides and butter is just beginning to brown, about 2 minutes. Remove from heat and whisk in ground ginger, cinnamon, cloves, black pepper, and cayenne. Cool slightly, about 2 minutes. Add butter mixture to bowl with brown sugar and whisk to combine. Add egg and egg yolk add whisk to combine. Add flour mixture and stir until just combined. Cover dough tightly with plastic wrap and refrigerate until firm, about 1 hour. (Dough can be refrigerated for up to two days, or frozen for up to a month.)
Adjust oven racks to upper-middle and lower-middle positions and heat oven to 300 degrees. Line two baking sheets with parchment paper. Place granulated sugar in shallow baking dish or pie plate. Divide dough into heaping teaspoon portions; roll dough into balls. Working in batches of 10, roll balls in sugar to coat. Evenly space dough balls on prepared baking sheets, 20 dough balls per sheet.
Place one sheet on upper rack and bake for 15 minutes. After 15 minutes, transfer partially baked top sheet to lower rack, rotating 180 degrees, and place second sheet of cookies on upper rack. Continue to bake until lower tray of cookies just begin to darken around edges, 10 to 12 minutes longer. Remove lower sheet of cookies and shift upper sheet to lower rack and continue to bake until beginning to darken around edges, 15 to 17 minutes. Slide baked cookies, still on parchment, to wire rack and cool completely. Cool baking sheets slightly and repeat step 3 with remaining dough balls.
Yield: 80 1 ½-inch cookies