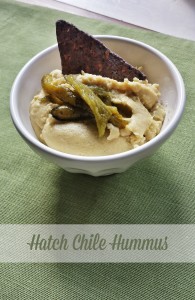 I always associate Hatch chile season with our move to Austin. The week we were here looking for a place to live before the big move coincided with the Hatch chile festival at Central Market, and thus my obsession began. I've rarely bought anything besides the chiles themselves, but this year I tried the roasted Hatch chile hummus and fell in love. I bought three tubs to prolong the festival feeling, but those were gone in short order. With my freezer stocked with 20 pounds of roasted chiles (hot, if you must know) I decided to give it a try and make my own. I adapted my recipe from this great base on Confections of a Foodie Bride. To make a super smooth hummus I use Alton Brown's slow cooker chickpeas recipe. The trick is 1/2 tsp baking soda added to the cooking water–it dissolves the chickpea skins for smoother blending.
Hatch Pepper Hummus: Hatch Fever Continues
Serves:
Approx. 2 cups of hummus
Ingredients
3 cups chickpeas, drained and rinsed (roughly 1.5 cans)
2 cloves garlic
3 Hatch chiles, roasted, seeded, and chopped
Juice of 1.5 limes
½ tsp salt
¼ tsp cumin
3 Tbsp tahini
Instructions
Place the chickpeas and garlic in the food processor and process until smooth, occasionally scraping down the bowl.
Add the hatch chiles, lime juice, salt, and cumin and process again, scraping the bowl as needed.
Add tahini and process until completely smooth.
Transfer to a bowl and refrigerate until ready to serve, topped with additional chopped chiles as desired.