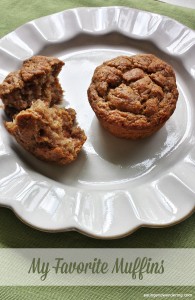 I admit, I'm on the anti-pumpkin spice bandwagon. I like my pumpkin spice goodies to contain actual pumpkin, and these muffins are my favorite pumpkin spice carriers.
This is my go-to muffin recipe, and it works well with either pumpkin or banana. They aren't vegan, but I like to use "flax eggs" in place of eggs in the recipe for a great texture, extra fiber, and some good Omega-3s. They can easily be adapted for vegans using sugar or another liquid sweetener of choice and an equal amount of soured non-dairy milk. My King Arthur's Baking Companion recommends 1 cup sugar : 3/4 cup honey for substitution. This recipe is so moist I wouldn't increase the liquid, but if it seems too dry, add a couple tablespoons water or whey if you have it on hand. This is an original recipe, inspired by recipes I've tried over the years, from Cooking Light to Nancy Silverton.
Flax Pecan Muffins
Ingredients
2 tbsp ground flax seed
⅓ c. warm water
1 cup all-purpose flour
1 cup whole wheat flour
1 tsp baking soda
1 tsp baking powder
½ tsp kosher salt
½ tsp ground cinnamon
½ tsp ground nutmeg
¼ tsp ground ginger
1 cup canned pumpkin or 2 large bananas, pureed
½ cup plain yogurt OR whey
½ cup honey
¼ cup coconut oil, melted
1 tsp vanilla extract
12 pecan halves, chopped and toasted
Instructions
Pre-heat oven to 350 degrees.
Lightly grease muffin tin with coconut oil.
Allow yogurt or whey to come to room temperature to prevent coconut oil from solidifying when mixed.
Mix flax seed with warm water and set aside.
While mixing ingredients, toast pecans for 5 minutes.
Combine dry ingredients (flour through ginger) in a large mixing bowl, whisking well.
Combine the remaining wet ingredients, including the flax mixture, in another bowl, whisking well.
Add wet ingredients to dry, stir just until moist.
Lightly stir pecans into the batter.
Divide evenly among 12 prepared muffin cups.
Bake for 25-30 minutes, or until muffins test done with a toothpick.
Cool in tin for 10 minutes on a wire rack. Remove from tin and cool completely.