Wink, tucked into the corner of a small strip center just off Lamar Boulevard, is a favorite for those who have something to celebrate or who just love perfectly prepared local foods served by warm and friendly staff. The team of Stewart Scruggs and Mark Paul opened the restaurant in 2001, and from the start were committed to serving the best ingredients, beautifully prepared. As a result, the menu at Wink changes daily.
A pioneer in sourcing locally, Wink relies on more than 30 Texas farms, foragers, gardens, dairies and ranches for their seasonal menu. Many of the purveyors are truly local, operating within the city limits of Austin, while others may be a bit farther afield. And part of the wonder of dining at Wink is seeing all the bounty of Texas producers in one place, carefully and creatively prepared. Each night Wink crafts a new menu, featuring the fresh produce, meats, and fish the chefs bring in. From season to season each visit to Wink will bring something new and unexpected.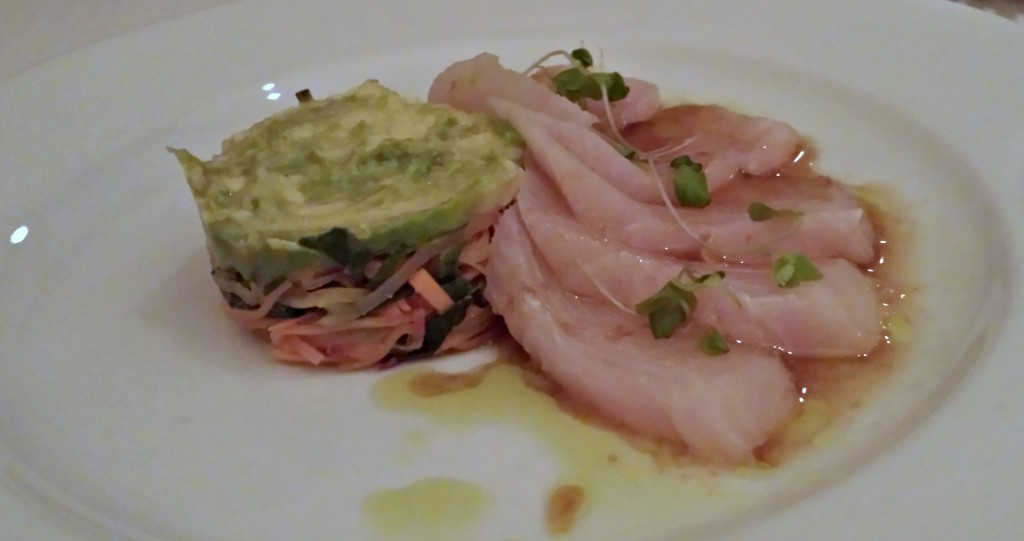 Diners have two options for ordering at Wink– a la carte, or the chef's five- or seven-course tasting menu. Each night's menu has more than fifteen items starting with soups, salads, and sashimi (each visit we've had the hamachi, but it's never the same dish). Fish and seafood are well-represented, with options ranging from scallops and mussels to fin fish from San Miguel Seafood. Hanger steak, duck breast, and sweetbreads are regular features, as well a local game, including quail, elk, venison, and rabbit.
A first glance at Wink's menu might leave those with special diets feeling a bit lost, but the fresh preparation of all the dishes means the chefs can accommodate a variety of dietary requirements. We found Wink when I was on a gluten-free diet, and a brief conversation with our server at the start of the meal indicated that nearly everything we considered ordering, from the regular menu and the tasting menu, could easily be prepared without gluten. A vegetarian tasting menu is also on offer, and many dishes can also be made vegan. As the menu boldly pronounces, Wink can handle "any dietary issues as our larder allows." More importantly, they do it with aplomb and without sacrificing flavor.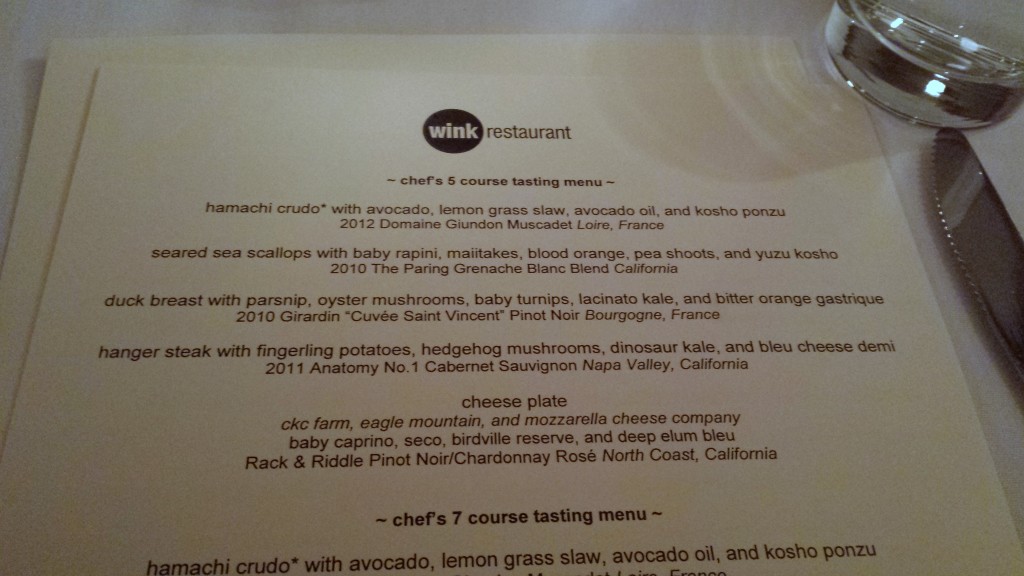 It's difficult to recommend specific dishes at Wink, since the menu changes so frequently. However, on each visit my husband Paul and I have both found the seafood and fish dishes to be outstanding. As mentioned, we have enjoyed the hamachi, and most recently we both loved the scallops, which that night were served with maitake mushrooms, blood oranges, pea shoots and yuzu. The tart-sweet citrus was a fitting complement to the richness of the scallops. And on a birthday visit the arctic char was a standout. In the game department, Paul recently had a venison dish served with sweet potatoes and chard. I rarely eat meat, but his noises of delightful satisfaction forced me to have a bite. As with so many dishes we've tried, it was a rich blend of flavors, yet delicately balanced with a tart reduction as a counterpoint.
Wink is lovely for a special occasion, though the dining room can be a bit loud. The chef's tasting menu and the well-regarded wine list are the place to start. Drawing from the full menu, the chef's tasting is offered in five or seven courses, with a wine pairing option. Full table participation is requested when choosing the tasting menu option. Each tasting selection offers a robust sampling of the full range of Wink's menu, from the artfully composed salads to the hearty duck, steak, or game dishes, ending with either local cheeses or a house made dessert. On our visit the staff were quite amenable to making a substitution for one dish that didn't meet our dietary needs.
Save room for dessert, even if you've decided to indulge in the tasting menu. While all of the desserts sound like perfection, a memorable ending to the meal is the dessert trio, featuring three from the evening's selection, and it's the perfect size for sharing. A must for chocolate lovers is the El Rey chocolate cake, dark and rich and fragrant.
Special occasion tip: Let the reservation staff know you're celebrating a special occasion. They will prepare a personalized menu, and the kitchen staff will all autograph it at the end of the meal. It's just an extra special touch that complements the already excellent service.
Parking tip: The lot just in front of the restaurant appears to be quite small, but Wink shares two lots with Whole Earth Provision Co., Tip Top Cleaners, and Wiggy's Liquors. There is also an elevated lot across the street on the north side of 11th. Plenty of free parking is available.
Details:
1014 North Lamar Blvd., Suite E
Austin, Texas 78703
(map)
512-482-8868
wink@winkrestaurant.com
www.winkrestaurant.com
Hours of Operation: Monday-Wednesday; 6 PM – Midnight, Thursday-Saturday 5:30pm – Midnight; Sun Closed
Reservations: Yes, groups four or smaller can reserve via OpenTable
WiFi: No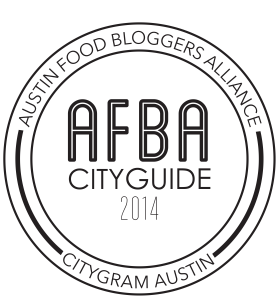 This review is part of the 2014 Austin Food Blogger Alliance City Guide. A complete list of restaurants included in the guide can be accessed via Citygram or on the AFBA website.