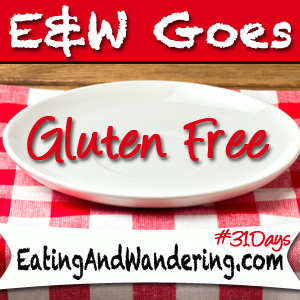 I haven't talked about it here yet, but about a month ago I had to change my diet because of a health condition and begin eating gluten-free. In some ways it has been a radical shift, and in other ways it's not noticeable at all.
My friend Kelsey, who blogs at Heart Knit Home, encouraged me to join the 31 Days Of… blog challenge, and after some hesitation I agreed. I don't blog here terribly often, but I always have intentions of doing more. This seemed like a good way to get in the habit of writing here more frequently while also sharing some of the exploration I'm doing into this new way of eating. I also want to give a shout out to Kelly and Angela who helped me get my lovely button and banner for this challenge.
I try very hard not to think of this foodstyle as having to live without something. That negative spin on it gives me pause. Instead I'm just trying to embrace the difference. While I don't miss bread too much, especially since there are some good gluten-free option, I do miss being able to eat foods at restaurants that should be safe, but because of cross-contamination of cooking oil they aren't.
The foods I'm referring to are french fries. And tortilla chips. But mostly french fries. Sigh.
Excuse me while I go saute some potato wedges in schmaltz, mmmkay?